Ravioli with gorgonzola, apple of Val di Non and lettuce sauce
BEER PAIRING:
7 Luppoli La Mielizia.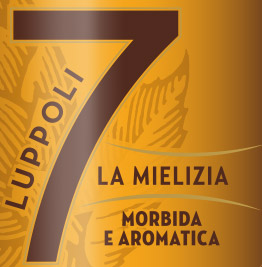 DISCOVER
PORETTI 7 Luppoli La Mielizia >>
Recipe ingredients:
(for 8 people)
Egg dough for ravioli
1 kg of wheat flour type 00
650 g of egg yolk
15 g of extra virgin olive oil
A pinch of salt
Stuffing for ravioli
400 g of Golden Delicious apples of Val di Non d.o.p.
20 g of pear brandy
30 g of butter
3 g of star anise
Sugar to taste
Salt to taste
Water to taste
400 g of sweet Gorgonzola d.o.p.
Lettuce sauce
300 g of lettuce leaves
20 g of extra virgin olive oil
160 g of vegetable broth
Salt to taste
Water and lemon juice to taste
Preparation:
Egg pasta for ravioli
Mix all the ingredients until get a dough then let rest in refrigerator for at least an hour wrapped in a film.
Stuffing
Peel the apples of Val di Non, flavor of a litte of star anise and blanch in a pan with a little butter, sugar and salt, then flame with pears brandy, add a little water and cook for a few minutes, after that let it cool and blend obtaining a puree
Ravioli making
Roll out the pasta and cut into circular shapes, place in the middle of each one the apple of Val di Non puree, then discs of Gorgonzola cheese obtained with the help of mold with a diameter smaller than the discs of dough. Close the ravioli overlapping with other discs of dough and seal edges well.
Lettuce sauce
Cook the lettuce leaves in water and lemon juice and cool them imm"
Presentation:
Cook the ravioli, drain them and store them in a soup plate in which you have previously poured a little lettuce sauce, then brush with a drizzle of extra virgin olive oil.