ANGELO PORETTI BREWERY:
A LIVING ART NOUVEAU MUSEUM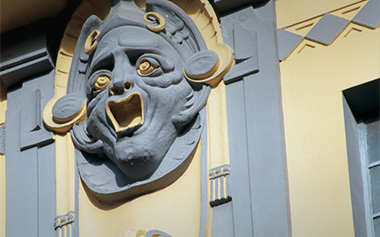 Our plant is truly unique. A perfect combination of art and technology since the early 1900s, when the Bihl and Woltz Architecture Studio in Stuttgart, an expert in designing industrial buildings, began working on expanding the plant.

It was a grand project, that gave rise to architecture in the Jugendstil style: the industrial version of floral Art Nouveau.
That is why the building is full of gargoyles, flared medallions with drops, gigantic pilasters and shells, all inspired by the naturalism and Classicism of the age.
Stylistic decorative elements alternate with festoons of hops flowers and wrought iron tuns that recall the building's purpose.
Its characteristic yellow and grey colours also refer to beer.

Stylistic features from the Art Nouveau period are still highly visible in the current brewhouse.
Built in 1908, it preserves those same aesthetic features of that day, and is still the very heart of our company.

Villa Magnani is nestled in a marvellous park.
It was created in 1905 by Ulisse Stacchini, the same architect who designed the central station in Milan.
Here too we can see the floral decorations that are typical of the age, and the motif of medallions bearing the initials of Angelo Poretti. Graceful sculptures of angel-women flank the stairs leading to the villa, the source of inspiration for our Selezione Angelo logo.

Today, Villa Magnani is home to the prestigious La Casa di Angelo pub: a unique place where you can sample our recipes and learn everything about us.