What hops are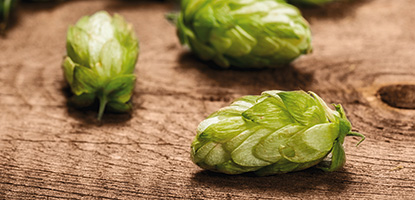 A plant with ancient origins, hops belong to the
Cannabaceae family.
Not everyone knows that in ancient Egypt and the Roman age, hops were used to treat a variety of conditions, especially digestive complaints. The Romans considered the fruits of this plant to be a true delicacy, especially when paired with myrtle, rosemary, and mint to create infusions with intense flavours and aromas. Today, hops are used almost exclusively in brewing beer. Hops give beers their distinctive bitter taste and shape the subtleties of their aromas. They are also a natural preservative, thanks to the plant's antibacterial properties that allow it to maintain the quality of the beer. There are
many varieties of hops,
each kind distinguished by their
shape, colour, size, and aroma,
depending on where they are grown. Among the existing types of hops, here are a few that the Angelo Poretti Brewery uses to make our beers truly special:
CASCADE: a variety of American origin. Its floral and lightly spiced aroma gives our recipes a truly special touch.
COLUMBUS: an American variety generally used for bittering purposes and able to give light spicy notes.
EAST KENT GOLDING: classic English variety, provides delicate aroma of honey, lemon and thyme.
GOLDING: this variety calls England home. It's the characteristic hops of all traditional English beers with a spicy, floral aroma
MOUNTHOOD: originally from Oregon, it has a medium/low bitterness and a spicy and floral aroma.
SAAZ: the hops with the "noble" aroma. The plant originates in the Czech Republic, and its refined aroma conveys its long-standing tradition. Just like the quality of our beers.
SORACHI ACE: originally from Japan, its aroma recalls the scents of incense and citronella, two essences that bring unique flavour notes to our beer.
STRISSELSPALT: cultivated in Alsace, it is widely known as an aroma hop variety. Citrusy and spicy aromas are predominant.
STYRIAN GOLDING: world-famous hops from Slovakia. Their lightly spiced aroma gives the beer a subtly bitter touch.
ZEUS: extremely rich of bitter resins, it is one of the most widespread used American varieties.
Our beers would not be the same if our hops had not first been selected and then expertly blended by our Master Brewers. Our surprising nuances of flavour are created through a growing intensity of hops.
Explore all our beers and hops here