The beer production process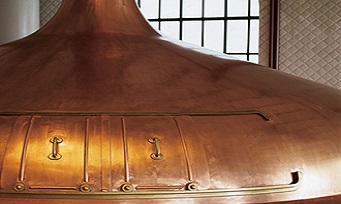 1
MALTING: FROM BARLEY TO MALT The barley is soaked and allowed to sprout in special tubs until the seed's small root grows to a given length. This is when sprouting is interrupted; the process generally takes roughly ten days. This is how the green malt is made. It is then dried at a temperature of 80° to become malt. With the sprouts removed, it is left to rest in the silos for a few days to make malted barley.
2
MASHING: FROM MALT TO WORT The malted barley is then mixed with warm water, and then warmed to higher temperatures (approximately 65-68 degrees) for a maximum of 2 hours. This completes the first phase of brewing, called mashing, in which the malt is transformed into wort, meaning that the starch it contains becomes malt sugar.
3
BOILING The filtered wort moves on to cooking: it is immersed in a kettle and heated to boiling. The hops are now added to the wort and boiled for approximately an hour. Then the wort is left to cool and air out while it moves on to the fermentation phase.
4
FERMENTATION: FROM WORT TO BEER The cooled and ventilated wort is moved to the fermenter and is blended with the yeast, which transforms the simpler sugars into:

- ethyl alcohol;
- CO2;
- new yeast, and other components.

When fermentation is complete, the beer brewed in this process is cooled and the yeast is extracted.
5
FILTRATION When ageing is complete, the beer remains cloudy with the residues of yeast, proteins, and polyphenols. It must be filtered to leave it clear and stable over time. It is therefore placed in a centrifuge that separates it from the superfluous components. It is now ready for packaging.
6
PACKAGING From the pressurized tanks, the beer passes to the bottling lines: bottles, cans, and casks. There is no oxygen present during the filling process. Afterwards, bottles and cans are all pasteurized at 60° to ensure microbiological stability. Finally, the levels, seals, dates, and codes are all checked. The beer is ready for consumption.